Contact Lenses - Experience freedom and confidence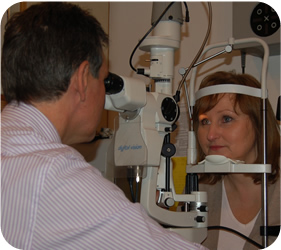 We offer a comprehensive contact lens service with fitting of all major lens types, from daily, fortnightly and monthly soft disposables to 30 day extended wear. Toric lenses for astigmatism and multifocals for presbyopia. Gas permeable lenses are also available.
Following the eye examination we offer a free tolerance trial and once you have been taught the handling and care regime you can take the lenses home and try them for a week before you make up your mind.
Monthly disposable soft lenses from £9.95 or £12.95 with solutions included.
Latest super oxygen permeable silicone hydrogel lenses from £15 per month. This type of lens allows up to 5 times more oxygen to reach your cornea than a standard lens and can be worn on an extended wear basis. This can be combined with solutions as part of a complete package, and home delivery is usually available.
Daily lenses from £25.00 per month - or buy them as you need them.
All contact lens wearers require after-care to monitor the health of the eye and quality of vision. We provide after-care for all lens types.